For more than a decade, PRO Compression has been a leading D2C provider of premium compression socks. Designed and made in the USA, PRO Compression socks help everyone from elite athletes to nurses to anyone who works on their feet perform at their peak and feel their best.
Alchemy Worx has worked with PRO Compression to transform their email channel. Applying our strategy and execution expertise along with our partner, Blueshift's ability to drive consumer engagement by making data and intelligence effortlessly actionable on every channel, we have enabled PRO Compression to become more targeted and sophisticated with their email campaigns. By combining increased frequency with relevance to drive continued engagement, we have helped PRO Compression turn email into their strongest revenue-channel.

CHALLENGE:
PRO Compression sought to continue its growth in the email channel, but recognized the introduction of Apple's iOS 15, including new privacy features such as Mail Privacy Protection, as a threat to their plans. They turned to us for a solution.
SOLUTION:
Alchemy Worx was already aware of the potential impact of iOS 15 on marketers and had been researching and developing solutions months before its release. By taking the early initiative, we were able to quickly recommend the right approach for PRO Compression. The solution was based on redefining the ways in which intent was assessed and shifting the strategy to focus on stronger success metrics.
Given the impact of iOS 15 on the validity of open rates, the metrics relied upon for defining success and engagement had to be revised. The focus was shifted to bottom-funnel metrics that were stronger indicators of campaign effectiveness. This approach enabled PRO Compression to rethink how to approach their campaigns and segments so they could define their strategy moving forward. Key to the new strategy was identifying the right metric to gauge intent.
TEST:
Alchemy Worx performed extensive testing and data analysis to understand how different behaviors impacted engagement and conversion. The testing revealed that site visits were a better indicator of both intent and engagement. With that in mind, we re-engineered PRO Compression's segments to use site visit data as a proxy for opens, a much stronger indicator of actual customer intent.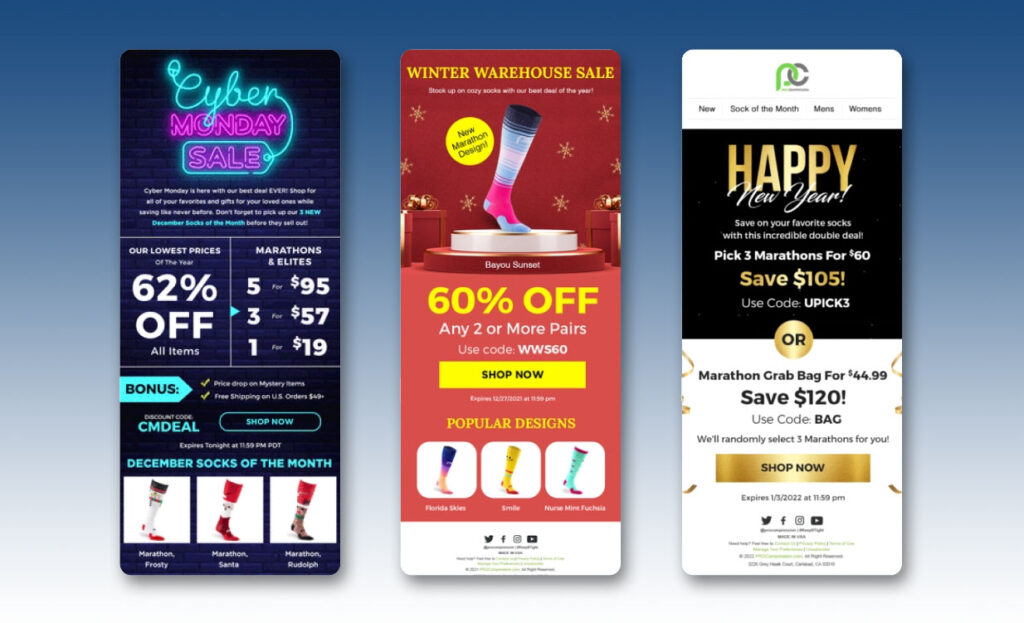 RESULTS:
The new strategy delivered strong results including:
42% Increase in Revenue
64% Increase in Total Clicks
36% Increase in AOV
27% Decrease in Unsub/Delivered Rate
TAKEAWAY:
With metrics and customer intent redefined, PRO Compression was able to re-engineer their email strategy to put the focus on customer intent. The new approach, based on audience type, takes advantage of a combination of data including historical site activity, click, and conversion to ensure they are capturing the entire digital funnel. With the new segments and strategy in place, they are now validating the success with stronger bottom-funnel metrics.